Center for Native Americans in the Seattle Area
Year End Campaign to Support our Programs and Operations.  Please Contribute!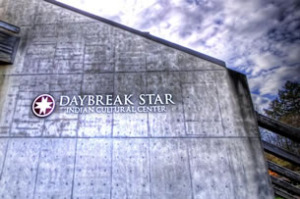 United Indians of All Tribes Foundation (UIATF) was founded to serve as a focal point for the renewal and regeneration of Native Americans in the Greater Seattle area and beyond.
Daybreak Star Indian Cultural Center is Our Home
United Indians MISSION
Provide educational, cultural and social services that reconnect indigenous people in the Puget Sound region to their heritage by strengthening their sense of belonging and significance as Native people.
What's New at United Indians

We need your help!  Keep our programs going and center open-  Double Your Donation thru 12-15 (up to $2000) Every year, United Indians of All Tribes Foundation brings culturally-enriching activities, and programming that changes lives, to thousands of Native Americans. Important Programs for United Indians We help mothers find safety,

AmazonSmile is a simple way for you to support United Indians of All Tribes Foundation and Daybreak Star, every time you shop. When you shop at smile.amazon.com, you'll find the exact same low prices, vast selection and convenient shopping experience as Amazon.com, with the added bonus that Amazon will donate